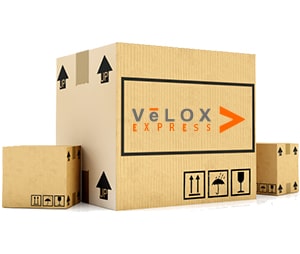 VēLOX Express was formerly Medical Express Delivery, Inc., a bold, forward-thinking company that cultivated its own course in the medical logistics provider industry. We are today, and always have been, true medical logistics provider. Many of our current clients remember the Medical Express days but have faithfully continued on the VēLOX Express train since February 2008.

In the beginning, medical deliveries depicted 100% of our business. Today, they still represent over 80% of our accounts. We have not swayed from our medical expertise, but rather opened the door to complementary customers to receive the same dependable service our medical clients have utilized and appreciated for years.
Compliance Statement
VēLOX Express would like to recognize a significant development that has occurred within our organization. We are proud to announce that every member of our team is now trained and certified in HIPAA & OSHA guidelines as well as Transportation Security Administration (TSA) requirements. Our commitment to maintaining 100% compliance is a commitment we made in April 2003 and continue to uphold today. VēLOX Express will not waiver on our goal of 100% compliance. We are certain that our dedication to training and compliance will eliminate the potential fines and liabilities associated with failing to meet these standards. We take Patient Confidentiality very seriously and work hard every day to ensure all Protected Health Information (PHI) remains private and confidential.
VēLOX Express would like to thank you for your continued support. We appreciate your confidence and will continue to work extremely hard every day to retain it.
Sincerely,
The entire staff at VēLOX Express
VēLOX Express performs medical specimen pick-ups, retail deliveries, home infusions and LTC pharmacy work, like many other medical logistics solutions. However, what separates VēLOX from the competition is our knowledge of home medical equipment.
No other medical logistics provider compares to our extensive records for pick up, delivery, or set up of semi-electric beds, pulse-ox machines, nebulizers, wheelchairs, 3 in 1 commodes, walkers, canes, oxygen concentrators, portable oxygen equipment, CPAP/BiPAP units, CPM's, lift chairs, scooters/power chairs, trapeze sets, and more.
VēLOX Express was the first medical logistics provider in the United States to operate and achieve 100% HIPAA Compliance, and fully abides by patient confidentiality and Protected Health Information (PHI) security.
VēLOX Express driver training and testing procedures include, but are not limited to:
"Hi Larry, I just wanted to let you know that I received an excellent report on your new logistics provider calling on one of our hospitals (name withheld). I recently met with the Lab Director and Send-Out Supervisor. They both complimented him on his courtesy and patience. Thanks for the Good Service."
"Larry, Our dedicated VēLOX Express driver (Jim K.) delivers for us every Monday, Wednesday and Friday morning. He is always punctual, pleasant and patient. He never complains, even if we overload him with 20 huge bags to deliver. I'm always confident that he will be professional and friendly when he makes his deliveries."